There is less than one week left to submit your application for a Special Session, as well as abstracts for oral and poster presentations for the XVII World Water Congress (11-15 May 2020, Daegu, Korea) by 30 September 2019!
Experts, professionals, academics, students, etc. from leading water organisations, institutions, research centres, agencies and NGOs are invited to submit their papers, and transmit their interest to present and organise special sessions and side-events. This is a unique opportunity to share new scientific and policy research, cutting-edge knowledge, engage in discussions and network around with the international water community next May in Daegu.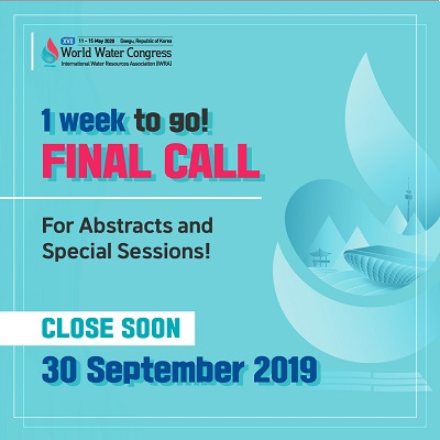 As you may know, the XVII Congress is a well renowned water event in 2020 that has the overarching theme of "Foundations for Global Water Security and Resilience: Knowledge, Technology and Policy" with 5 different sub-themes and 3 cross-cutting issues.
Call for Abstracts
Experts, academics, water professionals, private sector practitioners, and civil society stakeholders, from all disciplines and perspectives who wish to present their work and experiences during this Congress, need to submit an abstract. Abstracts should clearly describe the research, analysis, project or investigation in a maximum of 350 words, in English (with no graphs, charts, diagrams, images, references, or citations). The International Scientific Committee (ISC) will offer to peer review a strictly limited number of papers in cases where authors need peer review to obtain funding to attend the congress. More info here.

Call for Special Sessions
A Special Session is a parallel session on the main congress programme, proposed to the ISC by an organisation or group of organisations. It needs to be aligned with one or more of the congress themes, and focus on a significant issue not explicitly covered by one of the official sub-themes, and/ or highlighting an important collaborative programme or initiative. A special session must be of interest to a broad range of congress delegates, not just designed for project collaborators and stakeholders. Typically, it comprises a 90-minute session, with specific content and speakers (5 to 6), prepared in English under 1000 words. More info here.

Side Events
A side event is a conference, workshop or meeting, organised and funded independently by an organisation outside of IWRA, which may be formally associated with the Congress for mutual interest and benefit. It should have a theme or purpose that is connected to the Congress themes, and take place immediately prior to, during, or following the main Congress programme. Governmental, non-governmental, and inter-governmental organisations, as well as private sector organisations, who wish to organise a side event on relevant topics in conjunction with the Congress should contact IWRA Executive Office (congress@iwra.org).

We look forward to receiving your proposals!
In the meantime, if you have any questions, please contact us at congress@iwra.org.