World Toilet Day 2023 - "Accelerating Change in Global Sanitation"
November 21 - 16:00 (CET)
Moderated by Alice Aureli, an IWRA Honorary Member and former UNESCO Intergovernmental Hydrological Program representative, the webinar on Accelerating Change in Global Sanitation – World Toilet Day 2023 provided a platform for insightful discussions among a panel of distinguished experts. The virtual event attracted a diverse audience, with participants joining from various regions worldwide, including Afghanistan, Pakistan, Ghana, and numerous other areas. With nearly 162 registrations, the webinar brought together a global community passionate about addressing the critical issues surrounding sanitation and water access. The discussions, encompassing a range of perspectives and experiences, delved into innovative strategies, challenges, and opportunities essential for advancing sanitation practices globally.
The webinar, held in honour of World Toilet Day 2023, featured a distinguished panel of experts in sanitation. Neil Dhot, Managing Director of Aquafed, stressed the need to view water and sanitation as an opportunity rather than a crisis. He emphasised the necessity for smaller businesses to receive support from public authorities to foster a conducive ecosystem for growth, emphasising capacity building, especially amongst the next generation of youth leaders. Alexandra Reis, representing Sanitation and Water for All, highlighted the importance of breaking silos in the sanitation sector, urging the engagement of other sectors as champions for sanitation. She presented findings from a perception study that revealed key insights, including the perception of WASH as a high-cost sector and the need for strategic alignment of WASH communications with political cycles.
Sarika Saluja, General Manager of the World Toilet Organisation, top 17 influential women leaders in hygiene, health, and hospitality in the Middle East, emphasised the dire statistics: 3.5 billion people lack safely managed sanitation, with 8% globally practicing open defecation. She shared success stories, such as India's Harpic World Toilet College Programme and Nigeria's progress in declaring 36 countries free from open defecation. Kate Medlicott, Team Lead for Sanitation and Wastewater at WHO, pointed out that the 3.5 billion figure represents only what is measurable, stressing the broader impact of inadequate sanitation. Kate advocated for a Coalition on Climate-Resistant Sanitation and posed questions about addressing cholera and making sanitation-related jobs more appealing.
Trevor Magwaza, Chief Technical Officer at the Infrastructure Development Bank of Zimbabwe (IDBZ), reiterated alarming statistics: unsafe water and inadequate sanitation claim 3.5 million lives annually. He highlighted the need for radical investments to achieve SDG 6 and discussed funding sources, highlighting the importance of effective planning in fund utilisation and the involvement of the private sector. 
Madhu Chatterjee, UN-Water Secretary, highlighted the UN-Water's campaign messages and key events emphasising UN-Water's Blueprint for Acceleration, aiming to mainstream water and sanitation in government processes. She stressed the necessity of a cultural shift in recognising and appreciating sanitation workers.
Overall, the discussions focused on the urgency of redefining approaches toward sanitation, urging collaboration across sectors and viewing the sanitation crisis as an opportunity for change to address this pressing global issue.
Panelists:
Neil Dhot, Managing Director, Aquafed
Alexandra Reis, Head of Communications, Sanitation and Water for All
Sarika Saluja, General Manager, World Toilet Organisation
Kate Medlicott, Team Lead – Sanitation and Wastewater, WHO
Pedro Arrojo-Agudo, UN Special Rapporteur on the Right to Water and Sanitation
Trevor Magwaza, Chief Technical Officer, Infrastructure Development Bank of Zimbabwe (IDBZ)
Madhushree Chatterjee, Secretary, UN-Water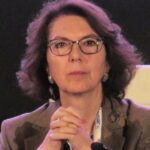 Moderated by: Alice Aureli, IWRA Honorary member, former UNESCO Intergovernmental Hydrological Programme (IHP)
Webinar recording coming soon!
Thank you for your participation!
IWRA Webinars constitute an additional resource designed to help our members, academics, dedicated practitioners, and policy professionals further explore these and other timely themes engaging in fruitful discussions, also aligned with the international water agenda and in close collaboration with key partners.