---
Dr. Kaoru Takara is the chair of the IWRA Japanese Chapter.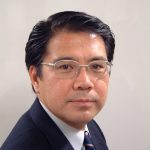 ---
IWRA Japan National Chapter consists of 17 actual IWRA members, forepast 78 IWRA members and the supporting organisations including the Japanese Ministry of Land, Infrastructure, Transport and Tourism (MLIT), the Japan Water Forum and the Society of Hydrology and Water Resources.
[expand]
The main purpose of the chapter is to:
• exchange views among the members in the field of water resources
• create a local network in this field
• coordinate not only interpersonally but also among organisations
• support national and overseas events
An annual general meeting is held every year with reporting on activities, discussion of the annual action plan and exchange of opinions.
[/expand]
---
Related articles


[expand]
A very comprehensive and recent report about the recent Japan Earthquake and to water related disaster:

Quick Report of Great Eastern Japan Earthquake and Tsunami

Kuniyoshi Takeuchi (head of ICHARM and member of the IWRA Japan Committee) and Ali Chavoshian with contribution of Shigenobu Tanaka ICHARM, Tsukuba 305-8516, Japan.

[/expand]