IWRA is delighted to announce the 2023 recipients of its three highly anticipated awards for outstanding contributions in the field of water resources management. These prestigious awards recognise individuals and organisations that have made significant strides towards addressing water challenges and promoting sustainable practices.
Meet the winners below:
Olcay Ünver
Arizona State University and Water Policy Group
Olcay Ünver is currently Professor of Practice at Environmental and Resource Management Programme; Senior Global Futures Scientist at Wrigley Global Futures Laboratory; and Adjunct Faculty at Melikian Center at Arizona State University. He is also member of Water Policy Group and Industry Fellow at Australian Rivers Institute and serves as senior advisor to Food and Agricultural Organisation of the United Nations and UNESCO.
In his public service career spanning over three decades, he served as Vice-Chair of UN-Water, led FAO's water programmes and activities, and UNESCO's World Water Assessment Programme. Earlier, he was a distinguished Professor at Kent State University, Ohio. In his home country, Turkey, he was President of the Southeastern Anatolia Project (GAP), where he transformed an engineering project of dams, power plants and irrigation systems into a sustainable human development programme integrating social development, employment creation, gender equality and environmental sustainability with infrastructure investments, which earned an IWRA Millennum Award.
Korea Water Resources Corporation (K-Water)
K-water, also known as Korea Water Resources Corporation, is a leading water management and infrastructure company based in South Korea. Established in 1967, K-water plays a crucial role in the sustainable development and conservation of water resources in the country.
With a mission to ensure the availability of clean water for both present and future generations, K-water employs innovative technologies and comprehensive water management strategies. The corporation is responsible for constructing and operating various water-related facilities, including dams, reservoirs, water supply systems, and wastewater treatment plants.
K-water's expertise extends beyond domestic projects, as the company actively participates in international water development initiatives. Through collaboration and knowledge sharing, K-water contributes to global efforts in addressing water scarcity, promoting water security, and implementing efficient water management practices.
The Crystal Drop Award is given to organisations or individuals in recognition of their laudable contributions to the improvement of the world's water situation. These contributions may be through:
Groundbreaking research on water issues;
Practice in water management or governance;
Knowledge transfer or dissemination; and/or
Outstanding contributions not covered by the above.
Lindsey Blodgétt
Next Wave Consulting LLC
Lindsey is currently the Principal Consultant of NextWave Consulting LLC based in Los Angeles, California where her firm focuses on stakeholder engagement in the water sector. She is serving as one of 15 'Water and Climate Coalition Leaders' as part of the World Meteorological Organisation's (WMO) initiative to advance SDG6 on the global agenda, and is a Co-Chair for the Chapters Committee at the International Water Resources Association.
She formerly served as an observing board member to the Global Water Partnership where she pushed for a permanent voting seat for youth to sit on the board. Lindsey holds a M.Sc. in Water Management and Hydrological Science from Texas A & M University (2018), and has served as the former President of the World Youth Parliament for Water (WYPW), where she advocated for youth engagement to influence the global water agenda. In her capacity as the former President of WYPW, she advocated for youth engagement to influence the global water agenda. Lindsey has a fervent passion for youth to be recognised as the voices of change. Lindsey was recently nominated as one of 100 of the young "Leaders of Tomorrow" by the St. Gallen Symposium where she presented on the 'Value of Water.'
The Water Drop award is given to a student or early career professional (typically people up to 35 years of age) who has made an innovative contribution to the water sector.  These contributions may include, but are not limited to:
Groundbreaking recent research on water issues;
Entrepreneurship in the water sector;
Raising the profile of younger people in the water sector.
Ven Te Chow Memorial Lecture and Award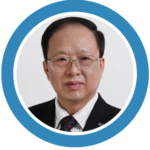 Jun Xia
Research Institute for Water Security (RIWS), Wuhan University
Prof. Jun Xia, born in China, received his PhD on Hydrology & Water resources from Wuhan University (WU), in 1985. He started his Professorship in 1991, and now is the Chair Professor & Director, Research Institute for Water Security (RIWS), WU. He was recognised as the Academician of Chinese Academy of Sciences (CAS) in 2015, a lifelong honor given to Chinese scientists who have made significant achievements in various fields.
He has ample experiences on leading water science research, managing and strategy jobs in China and international. He served as the President of International Water Resources Association (IWRA, 2009-2012), Board Governor of World Water Council (WWC, 2009-2015), Co-Chair, InterAcademy Council for Water Programme(2004-2010) etc.
He has published 184 journal papers indexed by SCI, 171 journal papers indexed by EI, 47 books; papers cited 14452 times. He was awarded "International Hydrological Prize -Volker Medal", given by IAHS, UNESCO and WMO in 2014; the 2017's State Natural Science Award in China; 2019's IUGG Elected Fellow, "for his outstanding contributions on hydrological science basis for sustainable water utilisation and international cooperation for sustainable water management as an engine for social and economic sustainable growth.
The Ven Te Chow Memorial Lecture provides for an outstanding lecture at the IWRA World Water Congresses in honour of the first president of IWRA.  Nominees should be well-known in the water community, and have a demonstrated ability to give outstanding lectures.  The awardee will deliver a lecture at the XVIII World Water Congress in Beijing, in September 2023, that promotes the objectives of IWRA, especially to:
Lead and influence water policy and governance;
Develop and publicise tools for assessment, improvement and integrated use of water;
Advance water resources planning, management, development, technology, research and education at international, regional, and national levels; and
Generate, synthesise, and disseminate knowledge and information in the area of water and related resources and the environment.