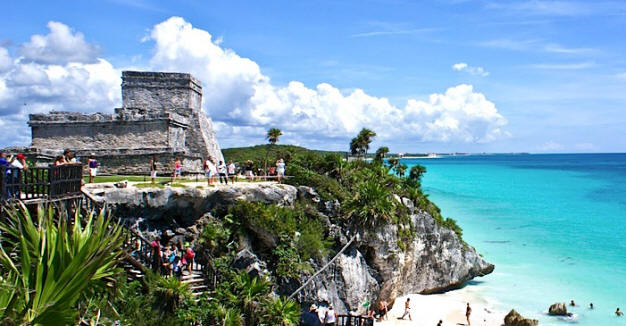 Photo by: Secretary of Tourism of Mexico (SECTUR)
The XVI World Water Congress will be held in Cancun, Quintana Roo, Mexico. Cancun has 22 kilometres of pristine white beaches that together form a number "7".
Located in the northeast corner of the Yucatan Peninsula, in the state of Quintana Roo, Cancun is a part of the territory of the ancient Mayan civilization. Cancun is distinguished by having modern entertainment centres (renewed in 2006) and a service philosophy that rivals holiday destinations worldwide. Unlike many other parts of the Caribbean and Mexico, Cancun was specifically developed for tourism, and continues to meet the needs of its 3.3 million annual visitors.
This destination offers travellers the best of many worlds: the Caribbean and Mexico, of ancient and modern times.
Hotel Zone
The Hotel Zone is a strip of white sand along east part of the municipality and is the main tourist attraction. Public beaches are found from north to south: Puerto Juarez (Playa del Niño, or Children's Beach) up to the Hotel Zone, where there are 9 marked public beach access: Las Perlas Beach, Langosta Beach, Tortugas Beach, Caracol Beach, Chac mool Beach, Marlin Beach, Ballenas Beach, Delfines Beach (the famous "Mirador", viewpoint) and Playa Nizuc.
The various hotel chains have restricted access to the remaining strip of beaches, thus other areas are only accessible by walking on the beach from any of these accesses.
Climate
Cancun is influenced by warm ocean currents mainly from the Gulf of Mexico Stream, which creates a warm and rainy weather.
The prevailing climate of the municipality Benito Juarez is included under group A, Aw type, which is warm and sub-humid with rains throughout the year, but most abundant in summer. Average annual temperature ranges from 25.5c. The total annual rainfall ranges from 1,000 to 1,300 millimetres. During the summer the area is affected by tropical storms and cyclones. Hurricane season begins in mid-June the months most affected are September and October.
Climate Channel: Cancun
http://www.weather.com/es-US/tiempo/hoy/l/Cancun+QR+M%C3%A9xico+MXQR0138:1:MX
Cancun population: 628,306 inhabitants in 2010 (estimated)
Official Language: Spanish
Currency: Mexican Peso (MXP). The existing coins are in denominations of $0.10, $0.20, $0.50, $1.00, $2.00, $5.00, $10.00 and $20.00 MXP. The denomination of the bills include $20.00, $50.00, $100.00, $200.00, $500.00 and $1,000.00MXP
$1 USD = $17.80 MXP (January, 2016).
€1 EUR = $18.60 MXP (January, 2016).
Payment Methods: Cash is the most common. International credit cards (VISA, MasterCard and American Express) are accepted in most commercial establishments. The Hyatt Regency offers currency exchange.
Visa information
Visitors who arrive in Mexico must have a passport or valid identity document. Citizens of some countries require a visa to enter Mexico, if you will be participating in the Congress you can consult this information below and also on the website of the Ministry of Foreign Affairs of México.
http://www.gob.mx/tramites/migracion-visa-y-pasaporte
For more information visit: http://cancun.gob.mx/